Over the past four months, the Sala Lab has welcomed three visiting scientists from around the globe. Learn more about their research below and also on our 'People' page!
In November, we welcomed Dr. Fujiang Huo, a
 grassland scientist and professor from Lanzhou Unviersity in China. Fujiang's research focuses on rangeland ecology and management. Here at ASU, Fujiang was interested in learning more about our precipitation manipulation experiments and DroughtNet. His research has been focused on the vegetation and livestock productivity, greenhouse gases emission and mitigation, economic and social analysis of rangeland grazing systems in the Qinghai-Tibetan Plateau, Loess Plateau, Inland Arid Region of northwest China and Inner Mongolian Plateau.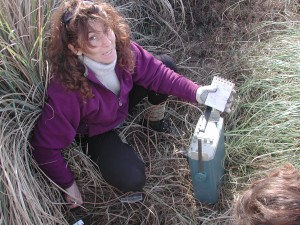 We welcomed a long-time friend of the Sala Lab, Dr. Laura Yahdjian, in January. She is a research Scientist in the Institute for Agricultural Plant Physiology and Ecology (IFEVA-CONICET) and an Assistant Professor of the department of Ecology in the School of Agronomy, University of Buenos Aires, Argentina. Her broad scale research interests are in the area of terrestrial ecosystem ecology, with a focus on ecosystem-level questions including controls of primary production, ecosystem-water dynamics, and the effects of exotic plant invasions on ecosystem functioning. At ASU, Laura has been engaged in the research of drought effects on ecosystem functioning.
Dr. Marc Estiarte, a scientist from the Centre for Ecological Research and Forestry (CREAF) in Barcelona, Spain, visited us during the month of February. Marc is currently involved in a project that studies the importance of precipitation timescales and timing for the productivity of ecosystems. This project involves field experiments that manipulate precipitation. He visited Sala's Lab to deepen on the comprehension of the significance of timescales of water availability on ecosystem productivity.