Osvaldo E. Sala
Osvaldo Sala is the Julie A. Wrigley Chair and Foundation Professor at Arizona State University, where he contributes to both the School of Life Sciences and School of Sustainability. He came to ASU in 2010 from Brown University where he was the founding Director of the Environmental Change Initiative and the Sloan Lindemann Professor of Biology. Previously, he worked at the University of Buenos Aires, Stanford University and Imperial College in different roles.
Sala has explored several topics throughout his career from water controls on carbon and nitrogen dynamics in arid and semi-arid ecosystems to the consequences of changes in biodiversity on the functioning of ecosystems, including the development of biodiversity scenarios for the next 50 years. He is particularly interested in working with scenarios as a way of simplifying, understanding, and communicating the complex relationships that emerge from the study of social-ecological systems. He employs a wide variety of tools; especially synthesis, manipulative field experiments, and simulation modeling. He has worked in the Patagonian steppe, annual grasslands of California, steppes of Colorado and deserts of Southern Africa and currently he has experiments in the Chihuahuan Desert in New Mexico. His work is reflected in more than 170 peer-reviewed publications and several edited books.
Osvaldo Sala is currently the Executive Director of SARAS. He has also served in numerous international institutions and in different capacities from the Scientific Committee of Problems of the Environment (SCOPE), where he was the president, to the Millennium Ecosystem Assessment and the IPCC (Intergovernmental Panel on Climate Change). Sala has served as member of the Advisory Board to the Director of the National Science Foundation in issues of environmental research and education, editor of Global Change Biology , the president of the Argentinean Society of Ecology , and a member of the governing board of the Ecological Society of America. Osvaldo Sala is an elected member of the American Academy of Arts and Sciences, the Argentinean National Academy of Sciences, and the Argentinean National Academy of Physical and Natural Sciences, and a Fellow of the American Association for the Advancement of Science.
 Current Graduate Students
Luis Weber
Luis.Weber@asu.edu 
Luis joined the Sala Lab in fall 2016 as a Ph.D. student in the Environmental Life Sciences program. He obtained his Bachelor Degree in Environmental Sciences at the University of Puerto Rico – Río Piedras Campus in 2015. Luis is interested in Woody Plant Encroachment, Climate Change and Plants Responses to Changes in their Environment, for which he has done related research on a variety of ecosystems like Siberian Arctic Tundra (Woods Hole Research Center), Tropical Wetlands and Tropical Dry Forest (CATEC – UPRRP).
Currently Luis is expanding his research curiosity toward Desert Ecosystems. He is interested in how precipitation and herbivory interacts to affect the probability of seedlings establishment of woody plants and non-native grasses in a native-dominated grassland at the Jornada Experimental Range (Chihuahan Desert).

Aaron Boydston

Aaron.Boydston@asu.edu 
Aaron joined the Sala lab in fall of 2015 as a Master's student in Biology program in the school of life sciences.  He received his Bachelors in Ecology and Conservation Biology at ASU in 2014.  Aaron is excited about carbon sequestration and carbon sinks. With soils being one of the largest carbon sinks, he is interested in how proper grazing management can increase carbon stock in grassland soils.
Amy Wiedenfeld
awiedenf@asu.edu
Amy joined the Sala lab in the fall of 2016 as a Masters student in Biology. She finished my BA in biology at Bryn Mawr College in May 2016. She is interested in ecosystem responses to climate change and is excited to begin working in the lab!
Current Postdoctoral Fellow
Laureano Gherardi
Laureano.Gherardi@asu.edu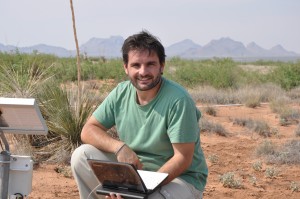 My research interests are focused on responses of arid to sub-humid ecosystems to climate change. Throughout my PhD dissertation, the main objective of my research was to study how interannual variability of precipitation affects patterns of primary production and to determine which mechanisms govern such responses. In order to investigate cause-effect relationships between precipitation variability and ecosystem response, I carried out a large-scale manipulative experiment, participated in modeling projects, and analyzed a worldwide long-term data set. My findings have shown that interannual precipitation variability itself has a strong effect on primary productivity and that this relationship is independent from the effects of precipitation amount. At the local scale, precipitation variability effects vary among plant-functional types; and, at the global scale, dry sites respond positively and mesic sites respond negatively to increases in interannual precipitation coefficient of variation.
In addition to my research, I also enjoy collaborative efforts. I have participated in a LTER synthesis group where we explored common controls of ecosystem processes across LTER sites and joined the Nutrient Network where we are exploring the effect of drought on productivity response to nutrient addition.
In the future, I plan to explore the effects of variability in climate and resource availability on ecosystem functioning. There is already a great deal of work assessing the effect of directional changes in resources (i.e. water, nutrients, CO2) and factors (i.e. temperature) on ecosystems. I am interested in exploring how changes in the variability of resources and factors themselves affect ecosystem functioning. In order to explore such effects, I use diverse approaches which range from manipulative experimentation to data mining and modeling. This approximation allows me to explore response patterns at different spatial and temporal scales.
Current Visiting Scientist
Pratap Naikwade
Dr. Pratap Naikwade joined the Sala Lab in Aug 2016 by availing the prestigious C.V. Raman Fellowship for post-doctoral research at USA funded by UGC (Govt. of India initiative). He has completed his Bachelor and Master degree in Botany from Dr. B.A.M. University, Aurangabad, India. He was rewarded with Ph.D. for the research on 'Some biotechnological aspects of food preservation and nutrient resources of crop plants'. He is working on different aspects of Sustainable Agriculture, Weed Utilization, Waste Management, Carbon Sequestration etc. He carried out awareness program on Conservation of sacred groves in Western ghat of Sahyadri ranges in India. He has guided four students from France in forest conservation project. He is working with Srushtidnyan (Mumbai based NGO) and Klimet Aktion (Stockholm, Sweden based NGO) for creating awareness on climate change among school children and local people in Ratnagiri, India. At ASU Dr. Pratap is interested in learning more about impact of climate change on different ecosystems, plant wood encroachment and its effect on livestock production.
Current Technician
Courtney Currier
Courtney.Currier@asu.edu
Courtney began work as a technician for the Sala Lab in the fall of 2015. She graduated from the University of Notre Dame with a B.S. in Environmental Sciences and received her M.S. in Biology from Arizona State University. Her research experiences include aquatic biogeochemistry in stream ecosystems and ecological stoichiometry of freshwater zooplankton. In the Sala lab, she assists with several different projects related to the effects of long-term changes in a semi-arid grassland. She also coordinates data management and the Jornada location for Drought-Net.
Alumni
Former Graduate Students
Owen McKenna
Current whereabouts: Mendenhall Postdoctoral Fellow USGS
Lara Reichmann,
Current whereabouts: Post doctoral fellow at University of Texas, Austin, and USDA, Temple, TX
Pedro Flombaum,
Current whereabouts: Research Scientist, National Research Council, and University of Buenos Aires (Argentina)
Marselle Alexander
Current whereabouts: Senior Associate, Development, Foundation at Ceres Inc, Boston, MA
Victoria Marchesini,
Current whereabouts: Post doctoral Endeavour Research Fellowship, Australia
Laura Yahdjian,
Current whereabouts: Research Scientist, National Research Council, and University of Buenos Aires (Argentina)
Verónica Pancotto,
Current whereabouts: Research Scientist, National Research Council, Centro Austral de Investigaciones Científicas,Ushuaia, Tierra del Fuego (Argentina)
Pablo Roset,
Current whereabouts: Private consultant, Argentina
Esteban Jobbágy,
Current whereabouts: Research Scientist, National Research Council, and University of San Luis (Argentina)
Adriana Beltrán,
Current whereabouts: Geostatistician at John Deere, Fort Collins, CO, USA
José M. Paruelo,
Current whereabouts: Professor, University of Buenos Aires and Research Scientist, National Research Council, Argentina.
Martín R. Aguiar,
Current whereabouts: Professor, University of Buenos Aires and Research Scientist, National Research Council, Argentina
Rodolfo A. Golluscio,
Current whereabouts: Dean and Professor, School of Agronomy, University of Buenos Aires and Research Scientist, National Research Council, Argentina
Former Postdoctoral fellows:
Jose Daniel Anadon
Current whereabouts: Assistant Professor, Department of Biology, Queens College, City University of New York
Lara Reichmann,
Current whereabouts: Post doctoral fellow at University of Texas, Austin, and USDA, Temple, TX
Erika Sudderth,
Current whereabouts:Post doctoral fellow at Brown University
M. Laura Yahdjian,
Current whereabouts: Research Scientist, National Research Council, and University of Buenos Aires (Argentina)
Amy T. Austin,
Current whereabouts: Research Scientist, National Research Council, and University of Buenos Aires (Argentina)
Elisabeth Huber-Sannwald,
Current whereabouts: Associate Professor, Department of Environmental Engineering and Natural Resource Management,Instituto Potosino de Investigación Científica y Tecnológica, San Luis Potosí, S.L.P. 78216, Mexico
Patricia Folgarait,
Current whereabouts: Professor, Universidad de Quilmes, Argentina
Silvia Cid,
Current whereabouts: Professor, Universidad de Mar del Plata, Balcarce, Argentina
Miguel A. Brizuela,
Current whereabouts: Professor, Universidad de Mar del Plata, Balcarce, Argentina
Former visiting scientists
Laura Yahdjian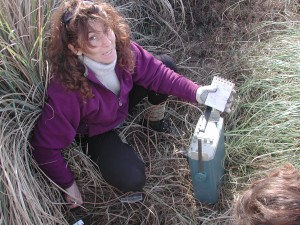 Laura Yahdjian was a visiting scholar at ASU in the Osvaldo Sala's lab. She is a research Scientist in the Institute for Agricultural Plant Physiology and Ecology (IFEVA-CONICET) and an Assistant Professor of the department of Ecology in the School of Agronomy, University of Buenos Aires, Argentina. Her broad scale research interests are in the area of terrestrial ecosystem ecology, with a focus on ecosystem-level questions including controls of primary production, ecosystem-water dynamics, and the effects of exotic plant invasions on ecosystem functioning. Her field sites cover a range of natural and human modified ecosystems in the Patagonia and Pampas region of Argentina, where she is studying ecosystem changes after agriculture abandonment and the impacts of agricultural practices on green house gases emissions. Laura is involved in two international global research networks (NutNet and DroughtNet). At ASU, Laura was engaged in the research of drought effects on ecosystem functioning.
Fujiang Huo
Dr. Fujiang Hou is Dean of College of Pastoral Agriculture Science and Technology (CPAST), Lanzhou University, Director of Gansu Grassland Ecological Research Institute (GGERI), vice Director of State Key Laboratory of Grassland Agro-ecosystems (SKLGAE). His research has been focused on the vegetation and livestock productivity, greenhouse gases emission and mitigation, economic and social analysis of rangeland grazing systems in the Qinghai-Tibetan Plateau, Loess Plateau, Inland Arid Region of northwest China and Inner Mongolian Plateau. He has been involved in over 20 funded projects, which include 9 international projects. The results have been published in 149 peer-reviewed scientific journals (including 125 Chinese journals). Fujiang was a visiting scientist with the Sala Lab from November 2015 until February 2016.
Marc Estiarte
Marc Estiarte was a visiting scientist in the Sala Lab during February 2016. Marc Estiarte has been studying the effects of water availability in the context of climate change on ecosystem processes of the carbon cycle, such as plant productivity and soil respiration, using precipitation-reduction experiments in the field in a mediterranean shrubland. He has also studied effects of drought on the phenology of growth, flowering and leaf senescence as well as in plant water relations. He visited Sala's Lab to deepen on the comprehension of the significance of timescales of water availability on ecosystem productivity.
Jianhua Si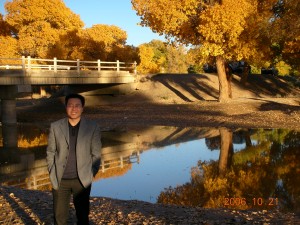 Jianhua Si was a visiting scientist in the Sala Lab from June 2013 to June 2014. He came from the Cold and Arid Regions Environmental and Engineering Research Institute, Chinese Academy of Sciences. His research interests focus on water use strategies in desert riparian forest, and the study area is located in the lower reaches of Heihe River Basin. In order to achieve his goals, he looked at the following four aspects that closely interact with each other: (1) Water source of desert riparian forest, (2) Hydraulic redistribution and eco-hydrological effects, (3) Transpiration of desert riparian forest and scaling up, and (4) Responses of ecological process to hydrological process in a desert riparian forest. At ASU, he engaged in the research of water dynamics in arid ecosystems.
Former visiting student
Vivian Verduzco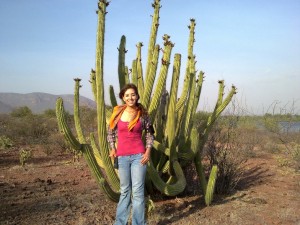 Vivian was with the Sala Lab from Spring 2014 to Fall 2014. She is a Ph.D. student from Mexico. Vivian received her Master's Degree in Science of Natural Resources with a major in hydrology. She is currently studying the hydrological effects on carbon fluxes especially in water-limited ecosystems. She is working particularly with measurements of carbon, water and energy fluxes across the North American Monsoon region. Their higher dependence on water availability makes these ecosystems heavily influenced by precipitation seasonality, controlling the biological activity and therefore photosynthesis and C decomposition processes. She is interested in the study of climate variability and anthropogenic effects in the carbon cycle in arid and semi-arid lands due to their important contributions in the global carbon cycle.
Former undergraduate students
Eric Johnson (BSc Brown University)
Orla O'Brien (Master's Student at UMASS Dartmouth)
Kristen Sebasky (MSc The Johns Hopkins University)
Current whereabouts: Associate at Industrial Economics
Shane Easter (BSc Brown University)
Current whereabouts: Environmental Finance Analyst Wells Fargo
Miriam Fuchs (MBA University of Michigan)
Current whereabouts: Business Associate at Novomer, Inc.
John Angell (PhD student University of Massachusetts, Boston)
Eva Shultis (MSc Harvard)
Current whereabouts: Math & Science Teacher. The Field School
Owen McKenna (PhD Arizona State University)
Current whereabouts: Mendenhall Postdoctoral Fellow USGS
Josh Haussler (BSc Arizona State University)
Luis Weber-Grullon (PhD student Arizona State University)
Raymond Cooley (Undergraduate student Arizona State University)